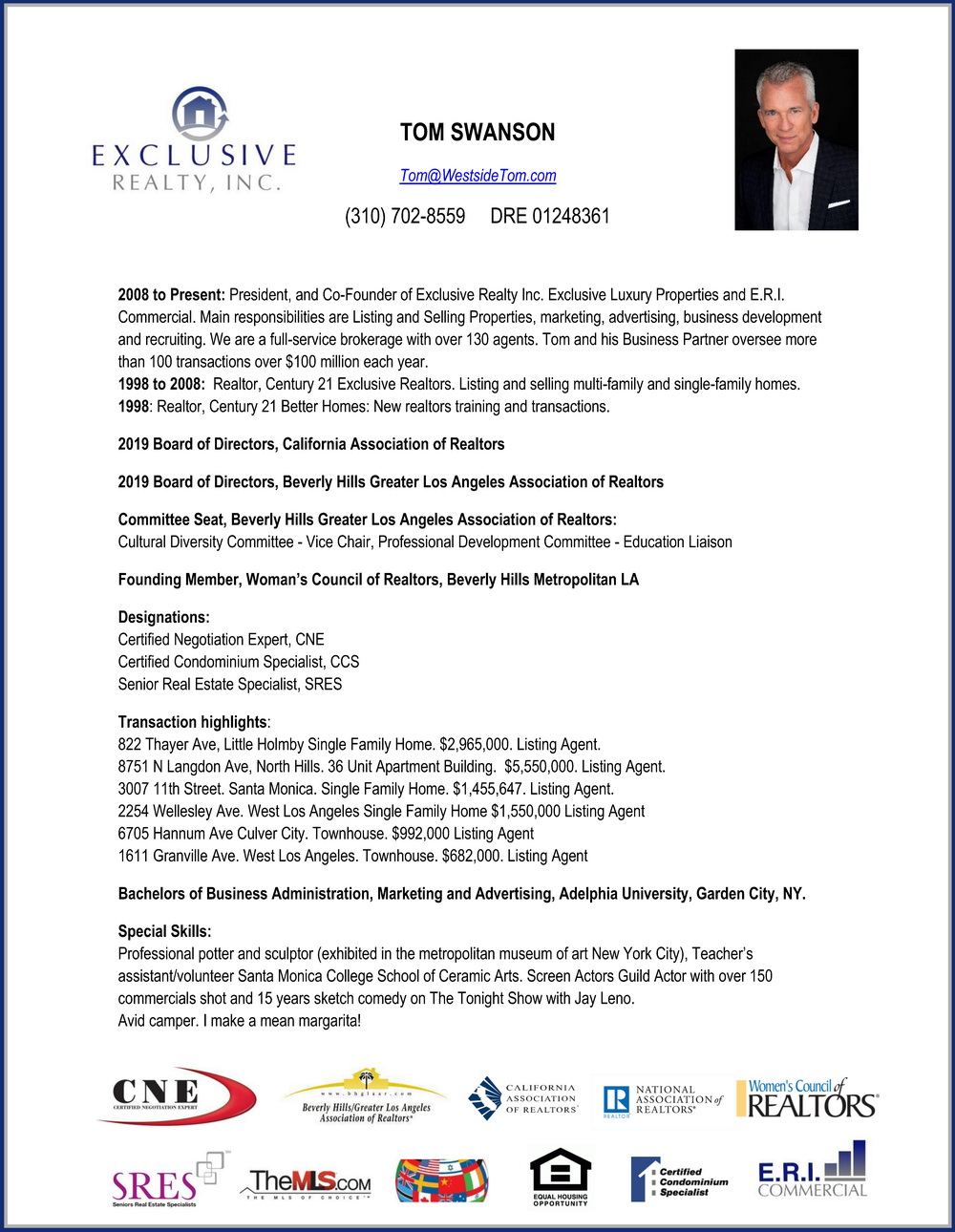 Hi. I am one of the two principals of Exclusive Realty, Inc. Sherry Sada and I have worked together since 1998. Ten years later, in 2008 we started Exclusive Realty, Inc. as the broker for the Century 21 office we worked for closed their doors in that rough market. Sherry and I successfully managed and ran our new company profitably through one of the most difficult real estate markets in recent history, with the invaluable help of our Operations Manager, Davey Lopez. When we saw the momentum turning up in the market we explored our options.
After a lot of business consultation, we upped our game. By giving every agent a top producer commission split, their own personal customizable, advanced website and a residual income program, our agents have the tools to give their clients the most comprehensive service in Los Angeles. We, also, partnered our company with Zillow and Homes.com, two of the top three on line real estate search engines in the nation. With 90% of home searches starting on line and over 87,500 people searching per month on Zillow alone, we saw where the industry is headed. Now we offer our clients top rated exposure to hundred's of thousands of ready buyers through the Internet. It is a business model with very forward thinking.
I have been fortunate to live a colorful life. I am a potter and sculptor. I was inducted into the Master's Ceramic Society and exhibited in the Metropolitan Museum of art by the age of 18. I started ceramics at age 11 in boarding school at The Stony Brook School on long Island, NY. From there I received my Bachelors of Business administration from Adelphi University's School of Business with a concentration in Marketing and Advertising. After being a suit in NYC, I decided to do some soul searching in Aspen Colorado. There I was discovered to do some print modeling. I loved it and moved back to NYC enrolled in a two-year, post graduate, acting school and began a thriving modeling and acting career with Elite Models. After moving to Santa Monica, in 1998 I decided to get my real Estate license, as I was trying to purchase my own property and frustrated with the service I received.
I have been consistent with Real Estate, modeling, acting and ceramics throughout the years. I have enjoyed a 15-year career doing sketch comedy on the Tonight Show with Jay Leno, and hundreds of TV commercials. I taught at the Clayhouse in Santa Monica for 17 years and then became a T/A volunteer in the ceramics department at Santa Monica Collage. I am a single father raising my beautiful 14-year-old daughter, Ruby. I was heavily involved for six years with the Franklin Elementary PTA receiving numerous awards for my participation in charge setting up and breaking down of their annual carnival fundraiser, among other high profile projects and janitorial type duties no one liked to do! I continued my involvement with Lincoln Middle School PTA for three years. Now Ruby is at The Lighthouse Christian Academy in Santa Monica. We are enjoying that character driven community.
It has been a wonderful balance of parenthood, business, sales, art and creativity. I bring all that experience together to make a very well rounded, strong, professional
My main role as President of Exclusive Realty, Inc. is marketing, advertising, business development, event coordination, and recruiting experienced agents. I help our agents brand themselves, build their specific clientele in person and with their own unique on-line presence. I am team leader, trainer, motivational speaker, and realtor specializing in residential income, single-family residences, and condos. I have been a successful agent since 1998 on the Westside.
I also, buy and sell real estate for my own personal living/investment needs and will treat you like I treat myself. I am an experienced negotiator, understand the uniqueness of every transaction, and want you to get the best deal for your money. I will help you develop a systematic plan to buy or a thorough marketing plan to sell. I will work side by side with you to see the plan, and you, successfully meet that goal.
Please contact me anytime to discuss and evaluate your needs. I will give you straight answers on how I can help you realize your vision, purpose of action and desired quality of life through Real Estate. I am looking forward to hearing from you soon.