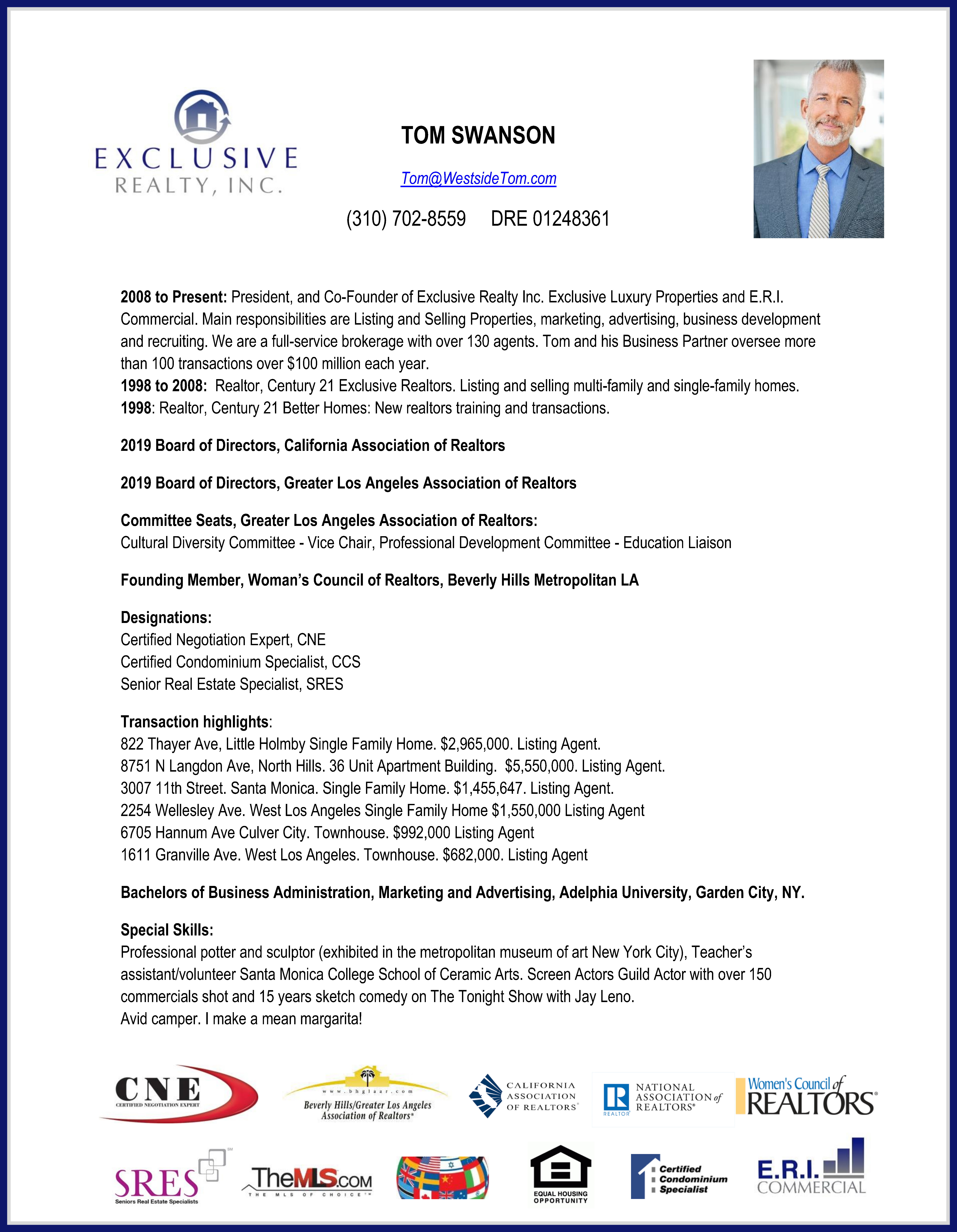 Tom Swanson DRE# 01248361
President and Co-Founder
Exclusive Realty, Inc.
My name is Tom Swanson, President and Co-Founder of Exclusive Realty, Inc. located in West Los Angeles. I take on many roles as a team leader at Exclusive Realty including training agents, motivational speaking, marketing, advertising, business development, event coordination, and recruiting Realtors. Additionally, I help our agents and broker associates brand themselves by personally building their specific clientele, as well as, their own unique online presence. I currently serve on the Board of Directors for The California Association of Realtors and the Board of Directors for The Greater Los Angeles Association of Realtors. At GLAAR, I serve as Vice Chair of the Cultural Diversity Committee and Education Liaison for the Professional Development Committee. I am a Founding Member of the Women's Council of Realtors, Beverly Hills Metropolitan Los Angeles Network.
I have twenty-one years of experience as an active Realtor and specialize in residential income, single-family residences and condos (CCS), with a primary focus on seniors (SRES). I am a strong negotiator (CNE) and understand the uniqueness of every transaction. I ensure my clients receive the best service from me. I work with my clients to develop either a systematic plan to buy or a thorough marketing plan to sell. I work by my client's side to ensure the plan we sculpt yields success and that they receive the greatest value and experience possible.
I attended The Stony Brook School in New York and then received my Bachelor of Business Administration from Adelphi University with a concentration in Marketing and Advertising. I later enrolled in a two-year, postgraduate, acting school and began a fruitful career with Elite Models as a model and actor. After moving to Santa Monica and purchasing my first income property in 1998, I decided to earn my real estate license and began to serve as a Realtor. As a full-time single dad, I have been heavily involved with SMMUSD, PTA and Franklin Elementary, Site Governance. I have been a potter and sculptor most of my life. I have exhibited in the Metropolitan Museum of Art in NYC and have seventeen years of teaching experience at the Clayhouse in Santa Monica. I currently volunteer as a teacher's assistant at the Santa Monica College School of Ceramic Arts. And I make a mean Margarita!